The DowntownDC BID is tracking the partially open sectors on a bi-weekly basis, and our latest information is provided below.  To support these businesses, click here. The next data collection date will be May 31, 2020.
The DowntownDC economy continued to operate at less than 10% of its capacity as of May 12, 2020.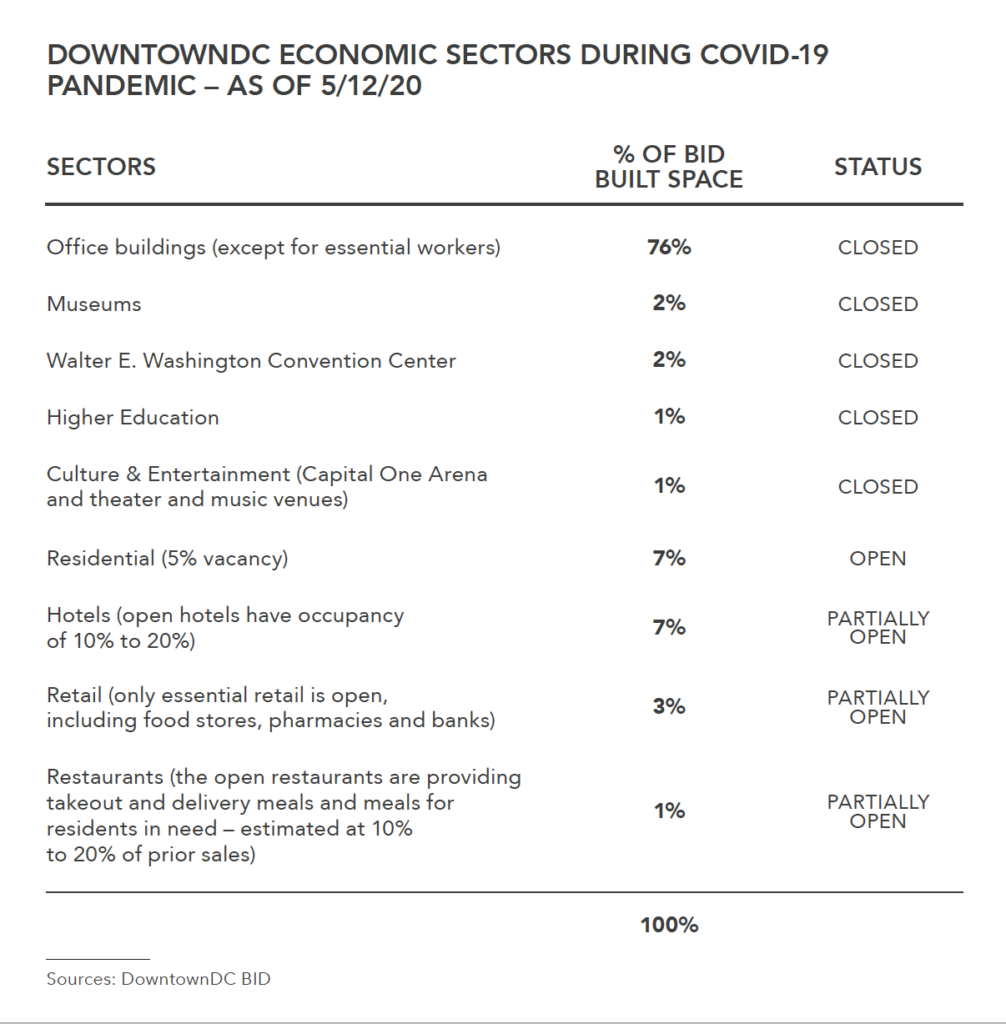 Below are the changes from April 24 to May 12:
Restaurants: there were two permanent closings, Fado and Momofuku, and three temporary closings, Luke's Lobster and Modern Market (both QSRs) and the Tavern at The Henley Park Hotel.
Hotels: there were no changes.
Retail (non-restaurant): there were no changes in the destination retail categories. Several non-destination retailers reopened, three T-Mobile stores and Zagg Phone Repair.
The three DC government orders that impact economic activity in DowntownDC are as follows:
March 11th Declaration of a Public Health Emergency and State of Emergency in DC through April 24. This announcement came with a strong recommendation to postpone or cancel non-essential mass gatherings. The DowntownDC business community experienced immediate impact as restaurants, entertainment venues, theaters, museums and the Walter E. Washington Convention Center experienced significant and immediate decline in operating capacity, customer foot traffic and revenues.
March 24th Closure of Non-Essential Businesses through April 24.  This announcement forced the closure of the majority of DowntownDC retailers (including fashion, convenience, gift shops, salons and spas), and all restaurants (who were still permitted to offer takeout and delivery).
March 30th Stay at Home Order through April 24. this order required residents to stay at home except for essentials services needs, exercise and traveling to essential employment.
These Three Orders Were Extended to May 15 and recently to June 8. 
It is important to note that while parts of the economies in Maryland and Virginia are reopening (per Governor's orders during the week of May 11th), the local jurisdictions adjacent to DC appear to be on a similar reopening schedule as DC.