The National Women's History Museum has been sharing inspiring stories for 26 years, but for the first time ever, the nonprofit has a physical exhibition, right here in DowntownDC. "We Who Believe in Freedom: Black Feminist DC" shares impactful legacies of women in the District through its space in the Martin Luther King Jr. Memorial Library, which opened on Thursday, March 30, and will run through September 24, 2024.
"It's really exciting for us because D.C. is a meaningful and historic place to live and work and visit, and so as the Women's History Museum, our role really is to share stories of women across the country and their contributions," says Susan Whiting, chair of the museum's board. "We're focusing upon 12 different women who were in D.C. who impacted lives and work there and also had national impact."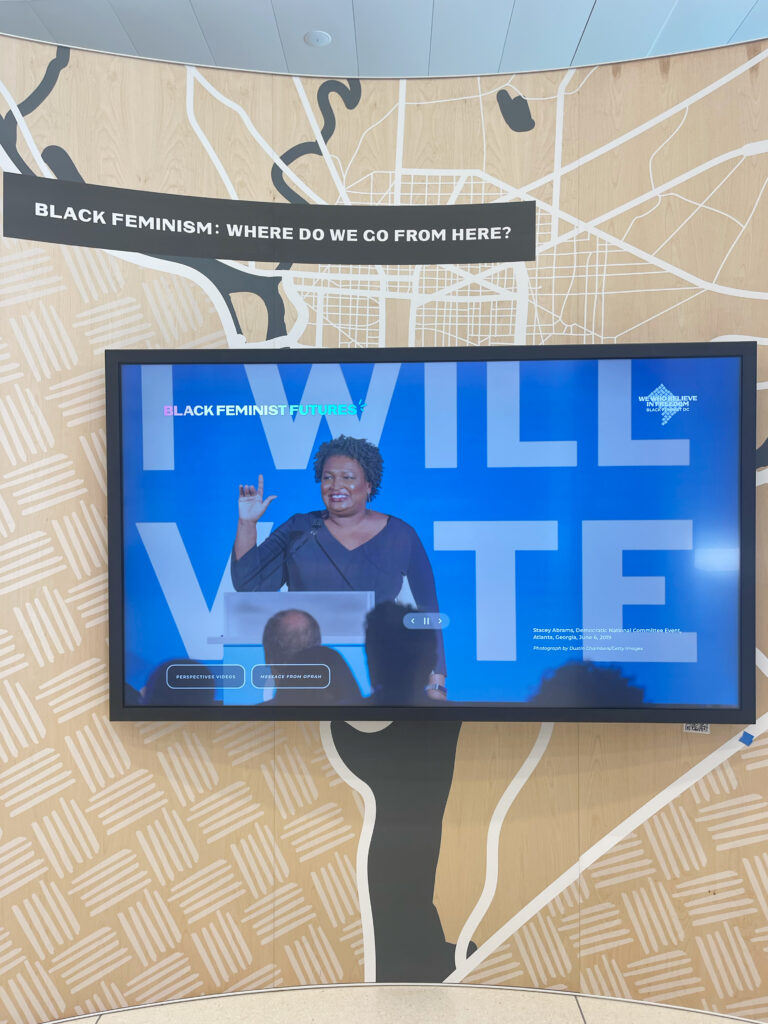 To see the installation, walk through the front doors of the library and take a left. Once through those next set of doors, you'll see the exhibit on your left-hand side, welcoming you in to explore its tall walls. You can go any direction you choose, and through photos, videos with personal testimonies, and more, you can explore these incredible women who worked so hard to advance women's rights, equity, and place in society and business.
"We came to that topic because we were going to be partnering with the Martin Luther King Jr. library, and this moment in time, when women's rights are being questioned, we wanted to share how those rights have been fought for over time," Whiting says. "And something I don't think everyone knows is that Washington, D.C., is our [nation's] first city that had a Black majority population, so the work of Black women has been uniquely important."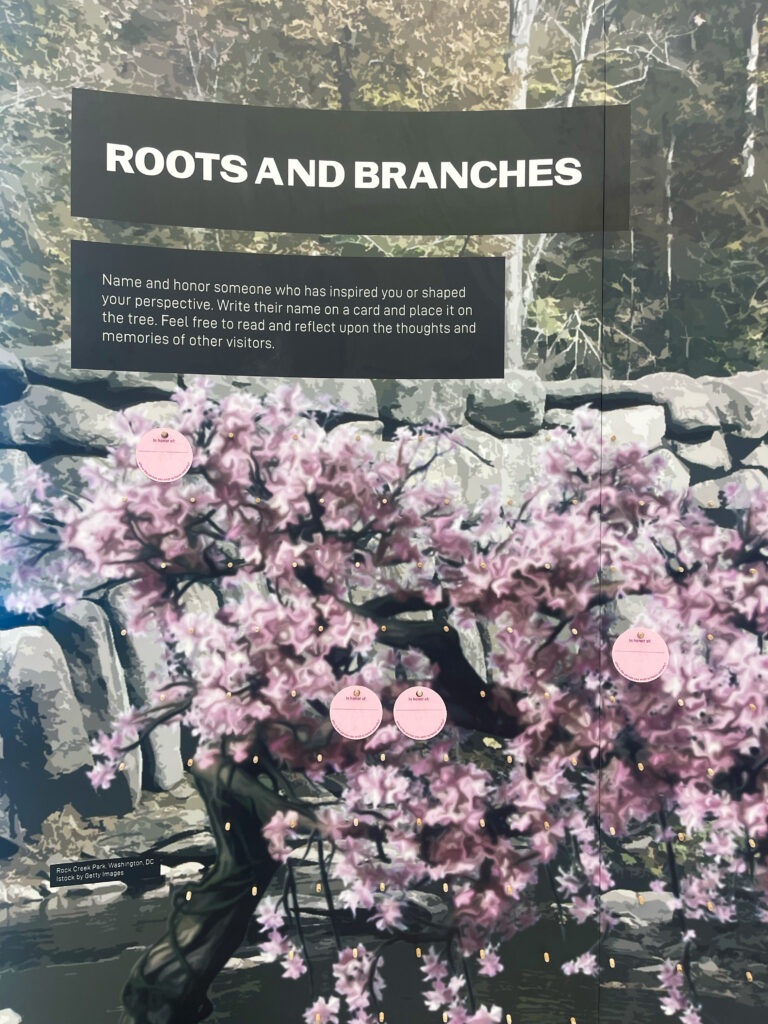 The exhibit contains familiar faces such as Eleanor Holmes Norton and Dorothy Height, plus 10 more you may not be as familiar with who have fought for freedom and liberation. While there are many photos, they're set in a dynamic way, with towering, concave structures that weave you through history as you walk. A couple of touchscreens offer the chance to hear from various people, and there's even a welcome video from Oprah Winfrey on one of those. In one area, you'll see the familiar bright pink of a cherry blossom tree depicted on a wall: Here, you can pick up a pink card to write the name of someone who has inspired you and hang it on the "tree." And — appropriately so, since this exhibit is in the library — you'll find historical books on these subjects.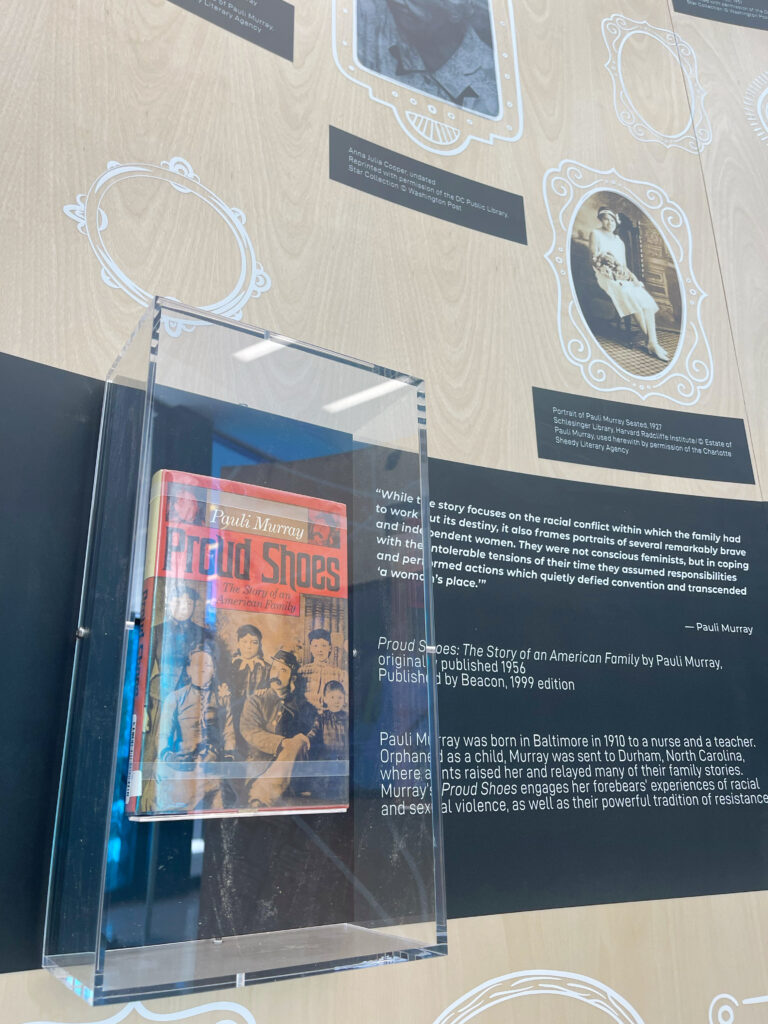 While absorbing the stories of these powerful women, it may be easy to think about how that work has shaped the modern world, and maybe reflect on what more needs to be done. The exhibit's creators had that thought process in mind: There's a call to action at the center of the installation where you can roll cylinders with different words to create a sentence for how you would like the future to look. You can fill in the blanks for "we remember …" with words such as "segregation," or complete sentences such as "We will not rest until economic inequality and gender inequality are destroyed."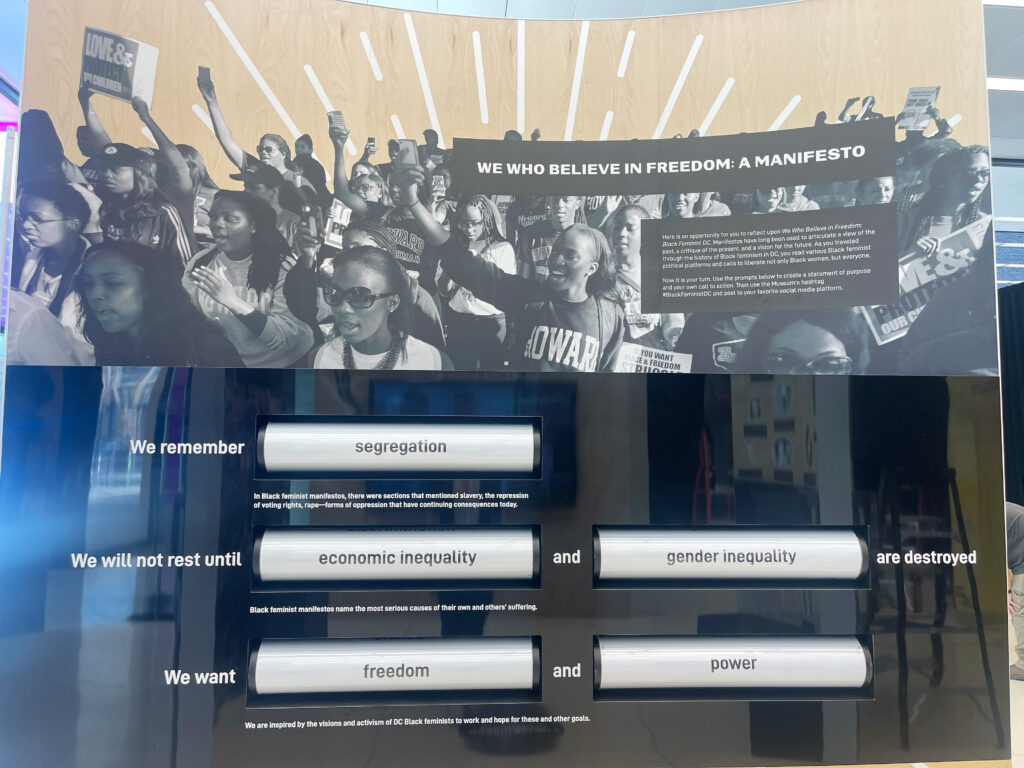 "We Who Believe in Freedom: Black Feminist DC" has been in the works for two years, but the real, focused work has been over the past year, Whiting says. "It was a collaborative process between members of our board our staff and the team of experts," she says. "We have amazing people we've been able to call in and engage: historians and scholars and designers and fabricators. The whole team is really focused on telling these stories." The museum was also focused on hiring women-owned and diverse businesses to help physically build the exhibit as well as work with women, of course, to develop it. The team includes:
• Dr. Kendra T. Field, associate professor of history and studies in race, colonialism and diaspora at Tufts University: Curator
• Dr. Sherie M. Randolph, associate professor of history at the Georgia Institute of Technology: Curator
• Susan Danish: Treasurer of the NWHM Board of Directors
• Zoe Schoen: Exhibition researcher
• Susan Gail Johnson: SGJ Consulting LLC
• Dr. Lori Ann Terjesen: Vice president of education at NWHM
• Tessellate Studio: Exhibition designer (women-owned)
• Capitol Museum Services: Exhibition fabricator
• Blue Telescope Labs: Interactive technology designer (women-owned)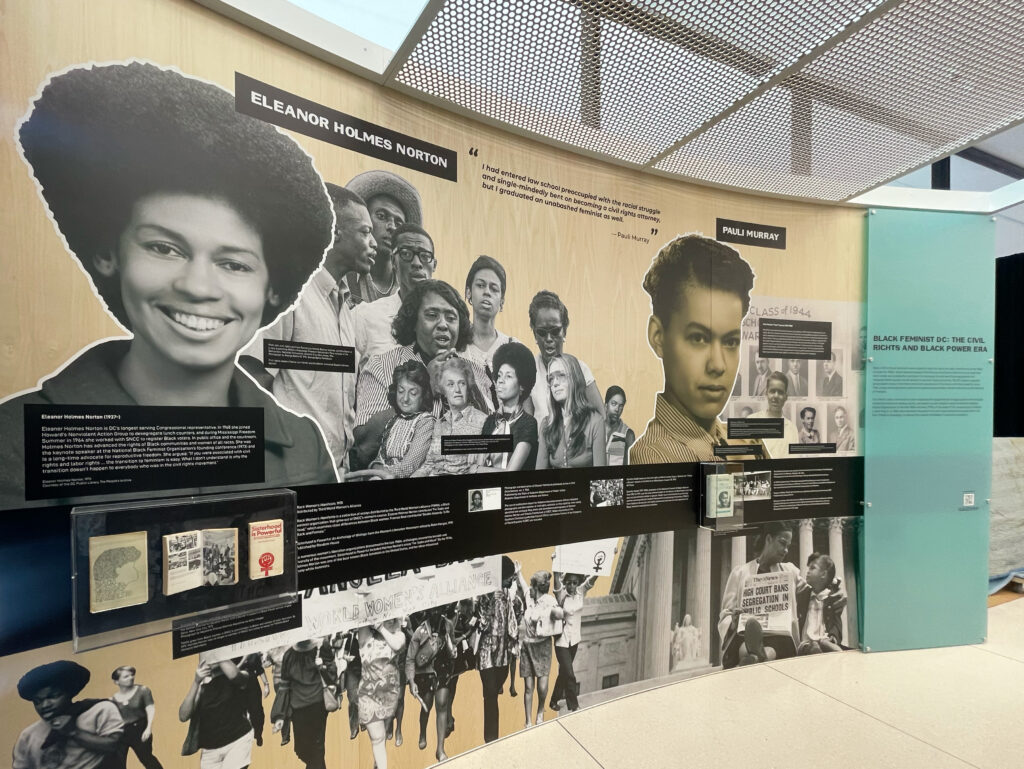 "A lot of those people have been thinking on these ideas that they wanted to bring across and teach, and the curators themselves are experts in this subject, 19th and 20th century Black feminism," Whiting says. "The whole idea is that people would gain an understanding of Black feminism of Washington, D.C., from the turn of the century to today. I hope people leave with some pride in the work and the impact of Washington and the rest of the nation and having learned things they haven't before."
"We Who Believe in Freedom: Black Feminist DC" is on view from March 30, 2023, to September 24, 2024, at the Martin Luther King Jr. Memorial Library, on the west end of the first floor.