If you walk into L Street Hair Station and see a customer in the barber's chair manned by owner Martel Guinyard, there's a good chance Marty has been cutting that person's hair for many years.
The D.C. native grew up in the Shaw neighborhood, where he used to visit a barber three times a week for two shaves and one haircut — and it was this barber who ended up guiding Marty into the tonsorial arts. "I got in some trouble, and he looked out for me," Marty says. "He said, 'If you enroll, I'll pay for all your tools and education.'" Because of that generosity, Marty has been in the business for more than two decades, opening L Street Hair Station in 2008.
One customer, William, has been going to Marty for 15 years and calls the barber shop "a downtown institution." Another, Trevino, is a barber himself: "Marty's real dependable, because barbers, they're not always really dependable. They're off and on sometimes. He's consistent." Consistent enough for Trevino to be going to Marty for 20 years. "One day he made his way down here, and I think he liked downtown a little better," Trevino says.
One difference that came with that move is how customers make appointments. When Marty started, customers would sit patiently and wait for an open chair. With the downtown location, where a constant flow of residents, workers, and visitors comprises the customer base, online appointments became crucial. "Everybody comes here because they can get everything done," he says, referring to L Street Hair Station's wide array of services.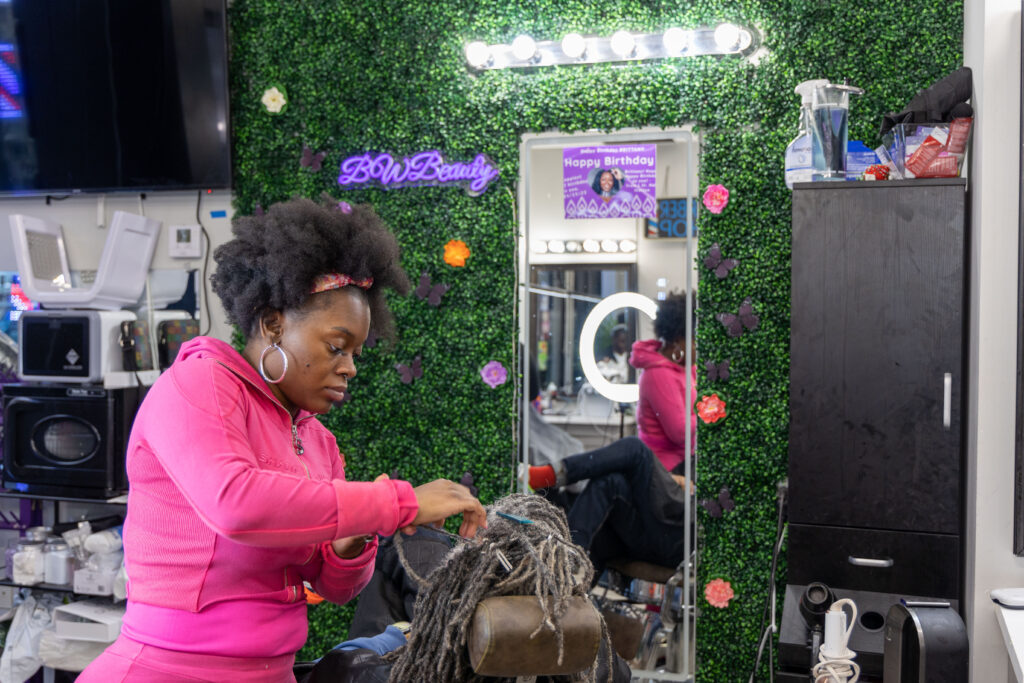 Another barber in the shop explains that those services include more intricate, detailed work than other, larger places might offer. "Stylists like Martel keep some services alive, like the hot steamed towel," he says. "For me, it's the family environment that we have — that's something you don't get everywhere. I learn a lot from him, and the thing about us is, we don't stop learning."
As Marty gives a customer a hot towel after a close shave, banter among clients and staff flows through the small space. On the other side, his wife, Brittany, is standing over a customer, working on his hair with skillfully moving fingers. Men's hair is not the only service she provides — she also offers haircuts and blowouts for those with long hair, along with facials, among other services. "We service everybody. They're welcome here," she says.
L Street Hair Station is located at 1400 L Street NW and is open 9:00 a.m. to 7:00 p.m., Tuesday through Thursday, and 9:00 a.m. to 10:00 p.m., Friday and Saturday.