When walking around Thomas Circle, it's difficult to miss the stories-high murals of beautiful warrior sentinel women on the building in the southeast corner. Designed and painted by D.C. artist Miss Chelove, these striking murals grace the walls of Hotel Zena, an "urban retreat" hotel by Viceroy that dedicates much of its communal space to celebrate women.
The hotel opened in October 2020 after a complete redesign of the building, previously another hotel at 1155 14th Street NW. Since then, it has offered a place for visitors to stay and for visitors and locals to experience art and dive into conversation. How's Hotel Zena doing? In 2022 it was ranked the No. 2 hotel in D.C. in the Condé Nast Traveler readers' choice awards.
"Art is at the core of Viceroy, it's part of the storytelling of the community," says Sherry Abedi, area general manager for the hotel. "Hotel Zena is unique in that the art is solely dedicated to women." Stepping inside the hotel, you're greeted by staff at the registration counter, the front of which is a jigsaw colorful, upcycled high heels inside a glass box. The wall behind the desk tells the story of this iconic footwear through quotes illustrating the "painfully" complex relationship people have with these shoes.
Abedi says the most popular artwork is the piece presenting Supreme Court Justice Ruth Bader Ginsburg, a nearly typical-appearing work of the beloved feminist icon and beacon for equality. Look closer, however, and you'll see it appears to be made of enlarged stitchwork. It's not, however: In reality, it's nearly 20,000 organic, hand-painted tampons. Artist Andrea Sheehan used products donated by women's healthcare company CORA to pay tribute to RBG's strength, poise, and unrelenting commitment to gender equality.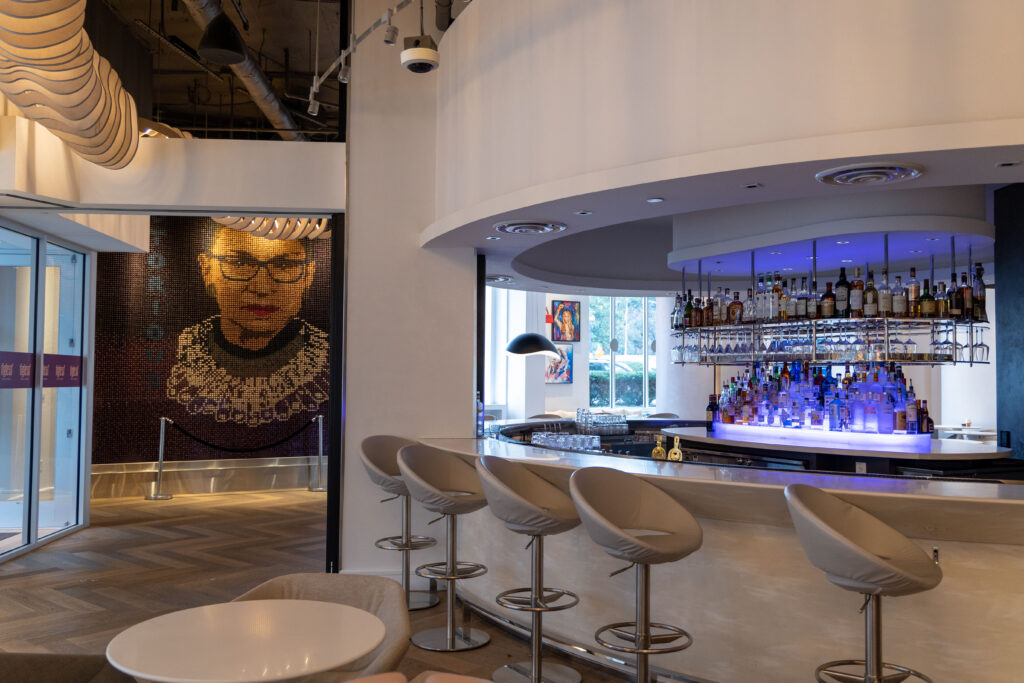 More art and displays grace the walls, and even the ceiling here, including a wall full of replicated protest buttons: it's such a popular piece, in fact, that the hotel has button-making events as part of its programming. Abedi says such events are intentional and not just for hotel guests, but for the broader local community to experience and come together in dialogue. "We want people to feel welcome and be wowed and educated by what's around them," she says. "There are so many stories not being shared, yelled from the rooftops, and the stories can be told here."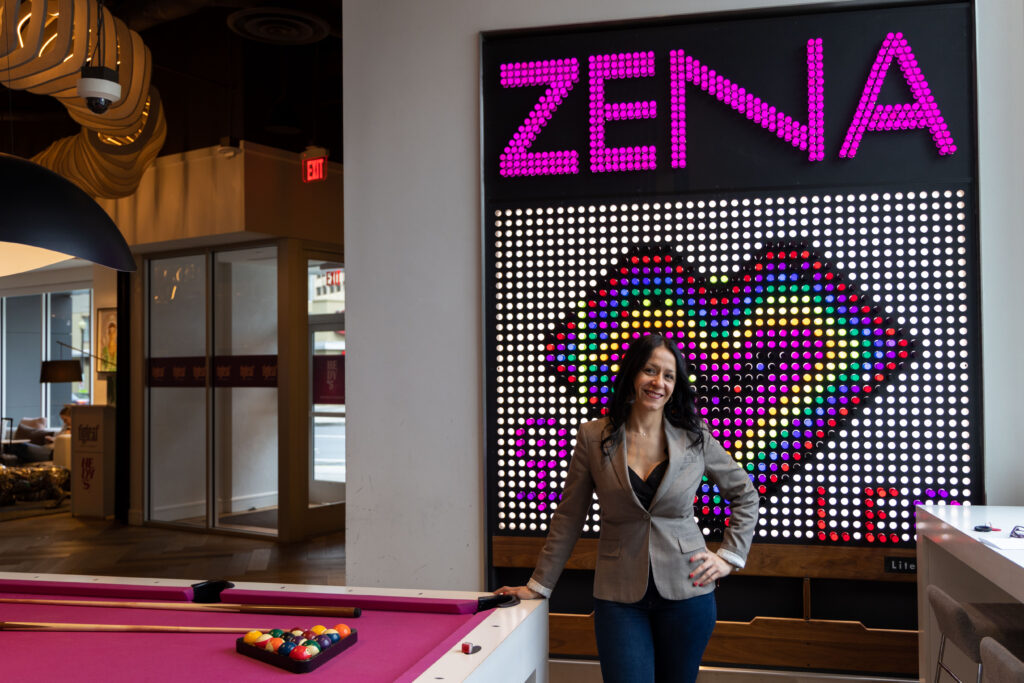 While the hotel's rooftop bar, Hedy's, offers cocktails with a view, and Figleaf provides a great dining experience, Abedi says the programming at Hotel Zena is quite content-driven. "People want to do versus just eat and drink. I feel 'the do' offers conversation," she says. "We are dedicated to acknowledging women. While we do that, we're situated to support the community. This is the place to be if you want to be part of something."
Hotel Zena is located at 1155 14th Street NW.