When CitySwing opened its doors in July 2022, it brought more than a few golf-simulator rooms to DowntownDC. Along with those come lessons by instructors for any skill level, a small bar when you want to take a break, and drinks and food delicious enough to make you feel better if you keep hooking or slicing. We touched base with CitySwing founder and CEO Tari Cash, who discussed her own golf journey and why she's working to share the sport with others in the District.
---
Q: How did you get into golf?
A: I was introduced to golf when I was 16. My mom came up with the idea that my brother and I would take a couple of lessons and then surprise my dad with a tee time for the family as a Father's Day present. We took two lessons, and as you probably know, that isn't enough to brave a golf course, especially one that has played host to a Ryder Cup and multiple U.S. Opens! To this day, my dad still says that was his worst Father's Day experience ever because we were terrible, and we played so slowly that we had to let multiple groups play through on the course. But that was the start of my golf journey. I learned the fundamentals then and didn't play too much again until I was a young professional in the business world.
Q: What do you love about the sport?
A: There are so many benefits to playing golf: physical fitness, mental health, personal development, business success, relationship building, and professional advancement. I can't think of another activity that can check all these boxes simultaneously!
I fell in love with the game because of the strategic thinking required and the opportunity to constantly chase improvement. Once you learn how to hit the ball, it's a game that I believe most people will enjoy. Golf courses are beautiful, being outside and in nature is healing, and spending hours with others develops meaningful relationships. Today, what I love most is playing with my parents, who are in their 70s. The ability to play golf later in life is another exceptional fact about the game.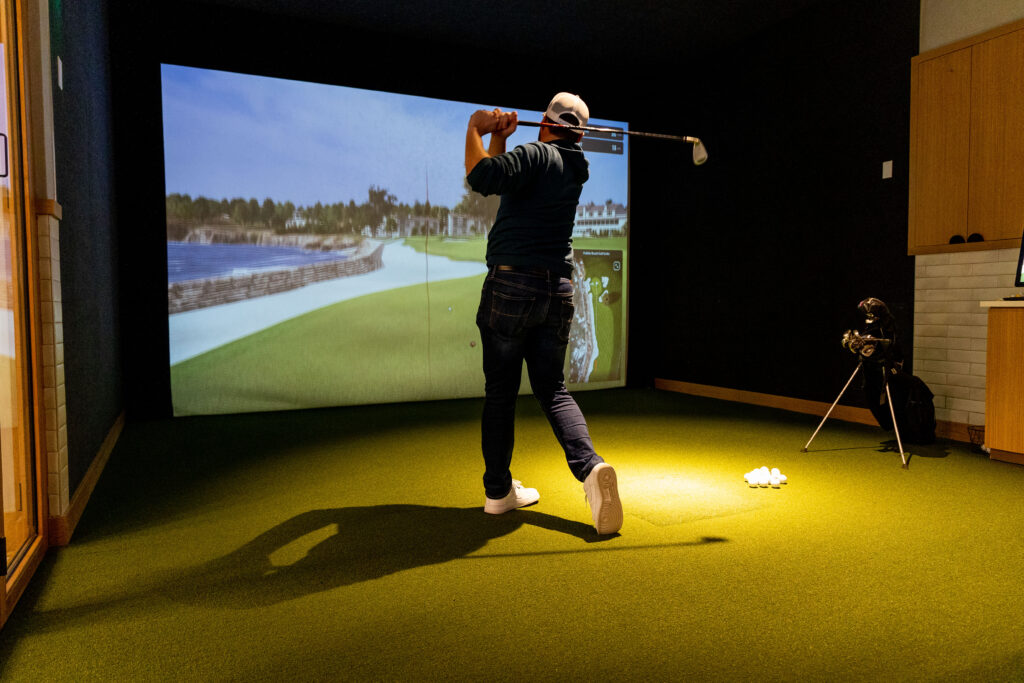 Q: What drew you to DowntownDC to open CitySwing here?
A: I love Washington, D.C., and the DowntownDC area has the perfect mix of a "live, work, and play" environment for indoor golf. Part of our mission is to make learning, practicing, and playing golf convenient, so being located where our guests live, work, and play is extremely important.
Q: While the sport offers the opportunity to welcome people from different backgrounds, it's not known to be diverse, nor one that women generally flock to. Can you speak to how your welcoming space might help with that?
A: We spend a lot of time designing programming and experiences for people who don't play golf, which is more than 90% of the U.S. population. We started with our space, which is a fun and non-intimidating environment for people of all skill levels to learn, practice, and play golf. We look and feel different than your traditional country club: We play 1990s hip-hop, R&B, and pop music, our PGA-certified coaches are dressed in T-shirts and jeans, and the space feels more like a coffee shop with a bar than a stuffy country club.
We also design experiences that make it fun to get started. We like to infuse golf into other activities like cultural holidays, trends, music, art, fashion, food, and craft cocktails. We have some really fun events planned for 2023 that will attract women and people of different backgrounds. From that point, we'll show you how to hit the ball and enjoy the game! We want everyone to take advantage of the benefits that come with playing golf outdoors, and we have the best instructors to help you get there. While we have fun, we are also very serious about teaching golf. We like to think of ourselves in between an entertainment opportunity around golf and a more instruction-based place for people to practice and advance their game.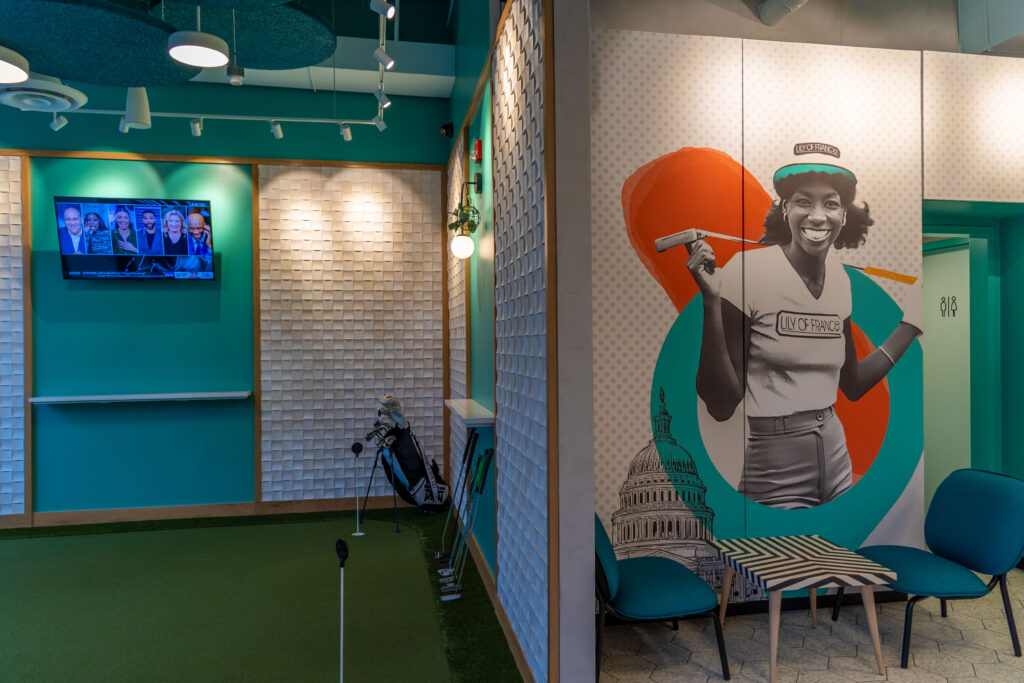 Q: Where do you like to play in the District?
A: Langston Golf Course will always be my favorite place in Washington, D.C. The pride I feel every time I walk into the clubhouse and play that course is unlike anywhere else I play. In 1938, members of The Royals and Wake-Robin Golf Clubs (amongst the oldest African-American Golf Clubs in the country) petitioned Secretary of Interior Harold Ickes for a place to play golf because segregation prevented them from playing elsewhere. In 1939, Lansgton was transformed from an abandoned trash site to a nine-hole course, and it became the place for Black golfers around the country. I love the history and love the course. I also believe that today, Langston has the best short-game practice area of most public and semi-private clubs in the DMV.
Q: One thing about golf is that there is always the opportunity to improve. How would you say this constant learning can help people throughout other aspects of their lives?
A: This is a great question, and there are many different answers that I could give you. The best example is that golf has taught me never to give up on myself. I've learned I can still make par on a hole, even if I hit my drive out of bounds. Honestly, I expect some terrible holes — I call them "blow-up holes" — when I play. And I've learned that I can have a blow-up hole and still record my best score. That has been such a powerful lesson and has translated into a competitive edge for me as an entrepreneur. As long as I'm breathing, I will never count myself out!
Q: Describe the intention behind the design of your space.
A: CitySwing was designed to feel welcoming, inclusive, and fun. We intentionally made the space modular, to ensure our guests can have a private, semi-private, or open-floor-plan experience. We want everyone to feel comfortable, so if you prefer a lesson in a private room, that's possible, and if you want an 85-person networking event, that is also possible!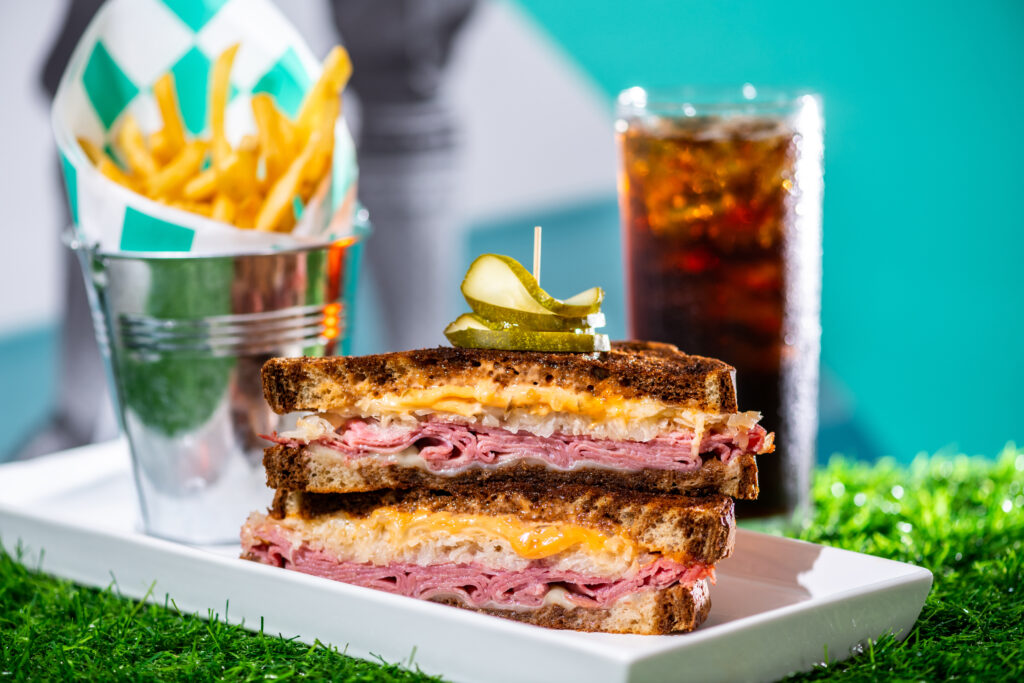 Q: What are your favorite items on the menu?
A: I love our salmon sliders and the shareable dessert called "the Tari," which is a warm dessert with bananas, sliced apples, honey, almond butter, and Kosher salt.
Q: Who are your favorite golf pros?
A: Tiger Woods and Tony Finau.
CitySwing is located at 901 New York Avenue NW and is open from 10:00 a.m. to 10:00 p.m. daily.