UPDATE: The Downtown Day Services Center, located at 1313 New York Avenue NW, is offering WALK-IN services Monday through Friday from 9:00 a.m. – 5:00 p.m.. Services include showers, laundry, restrooms, phone, computers, emergency clothing, vital records, medical, harm reduction, and housing guidance. Lunchtime meal service is offered daily from 11:00 a.m. to 1:00 p.m. Saturday & Sunday meals are only available at Vermont Avenue NW. For questions or additional information, contact The Downtown Day Services Center via phone: 202-383-8810 (9:00 a.m. – 5:00 p.m.) or email: Center@DowntownDC.org.
The Downtown Day Services Center ("The Center") offers services to individuals experiencing homelessness. The Center utilizes a housing-first method.
The Center is operated by the DowntownDC Business Improvement District (BID) with support from the District of Columbia Department of Human Services and services from Pathways to Housing DC and HIPS.
Click here to DONATE to The Center and support homeless services in DowntownDC!
The Center offers on-site support for individuals experiencing homelessness by providing a multitude of services within a single point of access, including:
food and beverages
restroom facilities
showers
laundry
housing services
non-driver identification
employment assistance
case management
legal services
vital records
healthcare
disability application
harm reduction services
computer access
social activities/entertainment
The Center is also supported by partnerships with agencies and organizations such as the District Department of Employment Services, the District Department of Health, the District Department of Motor Vehicles, the Economic Security Administration, Unity Health Care and the Washington Legal Clinic for the Homeless.
[Click here to view and print an information flyer about The Center.]
Daily
CASE MANAGEMENT
LAUNDRY LUNCH SHOWERS SNACKS & BEVERAGES RESTROOM FACILITIES RISK REDUCTION SERVICES
---
Monday
DISABILITY BENEFITS – 11AM-2PM
HEALTHCARE – 9AM-12PM LEGAL BENEFITS – 1PM-2PM
---
Tuesday
LOW-INCOME BENEFITS – 9AM-5PM
HEALTHCARE – 9AM-12PM
---
Wednesday
HEALTHCARE – 9AM-12PM
MENTAL HEALTH TREATMENT – 9AM-2PM
---
Thursday
DMV – 9AM-4PM
HEALTHCARE – 9AM-12PM
---
Friday
HEALTHCARE – 9AM-12PM
---
Saturday
SHOWERS, LAUNDRY, CLOTHING – 10AM-3PM FOR ALL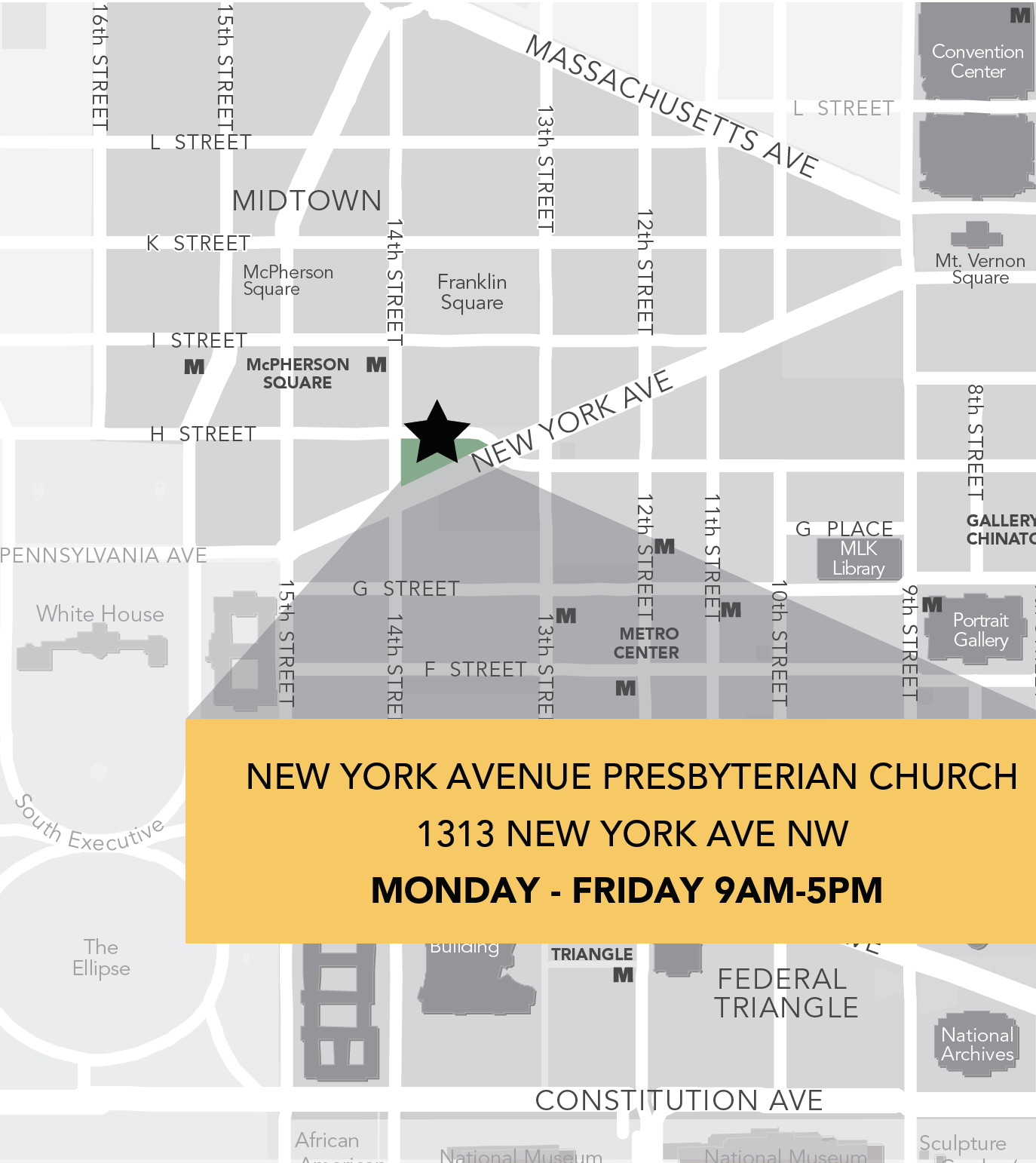 NEW YORK AVENUE PRESBYTERIAN CHURCH
1313 NEW YORK AVE NW
WASHINGTON, DC 20005
MONDAY – FRIDAY

9AM – 5PM
202-383-8810
How to get to The Center:
The Downtown Day Services Center is located one block from the Metro Center subway station on the blue, orange, red and silver lines, two blocks from the McPherson Square Metro station, and is accessible from bus routes 42, G8, S2, S4, and X2.
Monday through Friday, clients may utilize the Shelter Hotline's free shuttle service to and from The Center. Morning drop offs begin prior to The Center opening at 9 a.m. at 13th & G streets NW.
Evening pickups from The Center begin at 5:30 p.m. at 13th Street & New York Avenue NW. Transportation to The Center is also provided from the District's low-barrier and hypothermia shelters.