July 17, 2023
For Immediate Release
Contact: Blake Buege | LRA PR | 262-818-3533 | blake@lindarothpr.com
During the weekend of July 28–30, attendees will enjoy creative pop-ups, hands-on activities, and playful installations to entertain and educate young visitors and their families
Washington, D.C. — The DowntownDC Business Improvement District (BID) is excited to announce an immersive celebration of youth and learning: Kids World debuts at Franklin Park for three fun-filled days: Friday, July 28, through Sunday, July 30. This action-packed weekend will be free and open to all and will feature a variety of creative pop-ups, hands-on activities, playful installations, and more to entertain and educate young visitors and their families. Attendees can expect to dive into the worlds of literacy, health and fitness, creativity, science and nature, and entrepreneurship.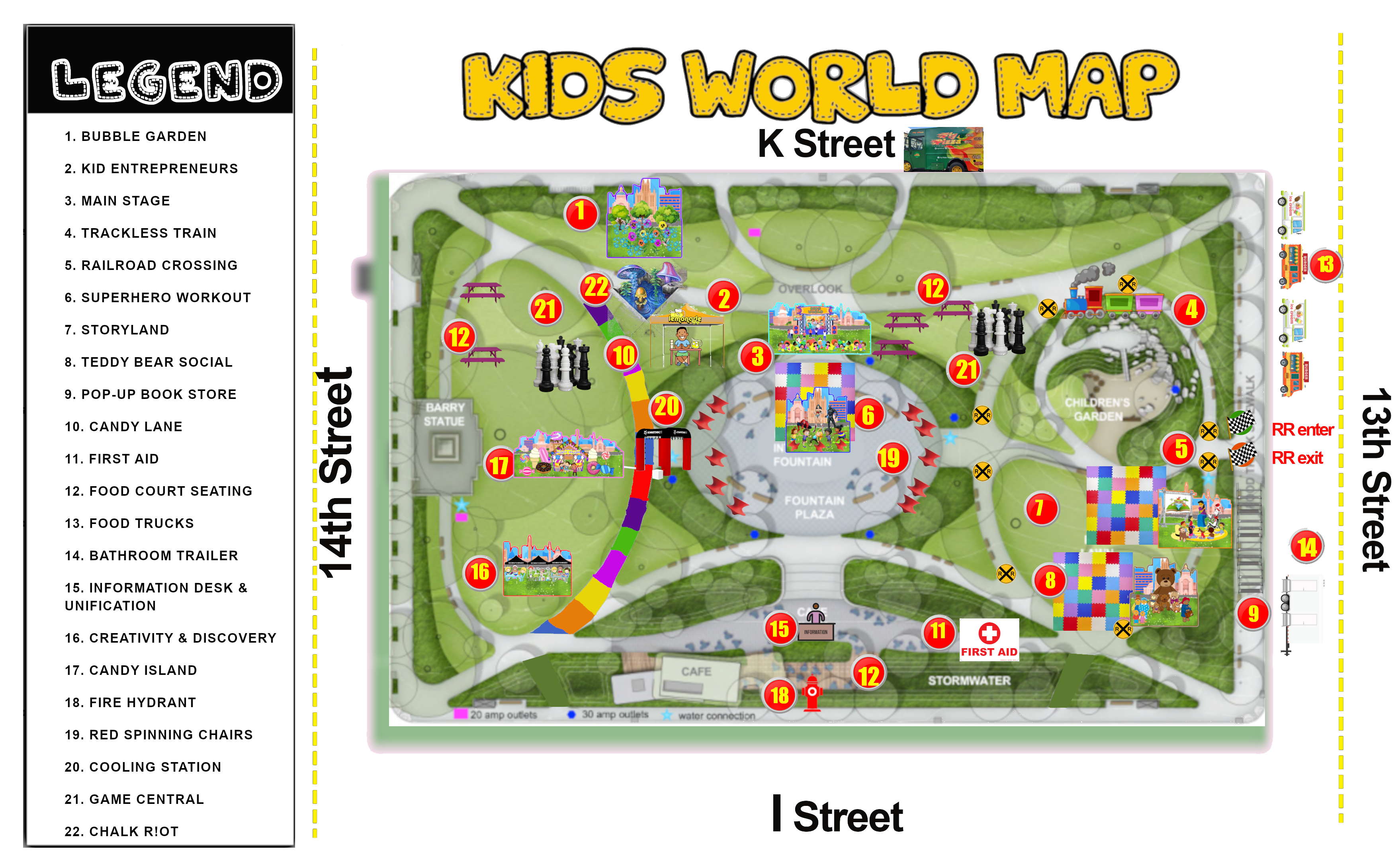 "Franklin Park is a favorite downtown destination for locals and visitors of all ages, and we love seeing families and kids reveling in downtown's largest green space. With Kids World, the park will be filled with a variety of engaging activities, curated by some of downtown's most
kid-friendly partners, that appeal to all of the senses and make space for kids to gather, learn, and have fun," said BID President and CEO Gerren Price. "This will be an unforgettable weekend, and one that shouldn't be missed."
The dynamic programming of Kids World is being developed by the BID and partners, including event sponsors the DC Public Library Foundation, Beyond the Book, and Events DC, plus the DC Department of Parks and Recreation, Planet Word, Turning the Page, and others. Franklin Park will be filled with interactive exhibits, play spaces, and learning opportunities. Activities will be focused on young people ages 3 to 15, but there will be plenty of options to keep attendees of all ages active and engaged. The full schedule of programming is available online at downtowndc.org/event/kids-world.
Highlights include:
Storyland story time with special guest appearances
Pop-up children's bookstore
Hands-on science, nature, art, and craft projects
Teatime with Paddington Bear
Stuff-your-own-bear station
Meet and learn from kid entrepreneurs
Superhero workouts with Black Panther, Wonder Woman, and Spiderman
Rock out with youth bands, singers, dancers, and other performers
Dance party with DJ Princess Christiona
Trackless train rides
and much more!
All Kids World spaces and activities are free and open to the public. Select events have limited capacity and require pre-registration — visit
the Eventbrite page to view those events and reserve your free pass.
For more information or to speak to an organizer, please contact Blake Buege at blake@lindarothpr.com. Updates to the program will also be announced on the DowntownDC BID's social media channels via @downtowndcbid and @franklinparkdc.
About the DowntownDC BID
The DowntownDC Business Improvement District was founded in 1997 and is a private nonprofit organization that provides capital improvements, resources, and research that keep the BID area clean, safe, economically and environmentally strong, and accessible. The DowntownDC BID is a catalyst, facilitator, and thought leader in diversifying the economy, promoting public-private partnerships, and enhancing the downtown experience for all. DowntownDC encompasses a 138-block area of approximately 520 properties, from Massachusetts Avenue on the north, including the convention center at Mount Vernon Square, to Constitution Avenue on the south, and from Louisiana Avenue on the east to 16th Street on the west.
About Franklin Park
Originally established in 1832 and controlled by the U.S. National Park Service, the 4.8-acre Franklin Park is the District of Columbia's largest downtown green space. In September 2021, it reopened to the public after a comprehensive two-year renovation. The park's amenities now include an expanded and restored fountain plaza, a new children's garden, public restrooms, full ADA accessibility, enhanced lighting, conversational seating, multiple green spaces, new plantings, and a cafe pavilion. Managed, operated, and programmed by the DowntownDC BID, Franklin Park is a signature destination in the heart of D.C. for residents, workers and visitors.