June 23, 2023
For Immediate Release
Contact: Braulio Agnese, braulio@downtowndc.org
ODA Architecture Founder Eran Chen and Ward 2 Councilmember Brooke Pinto Join Event to Speak About Downtown's Potential
Washington, D.C. — The DowntownDC Business Improvement District (BID) welcomed nearly 250 attendees at its 2023 Annual Meeting on Wednesday, June 21, as BID staff, board members, stakeholders, and the broader community gathered at Planet Word to celebrate the event's theme: the "unparalleled opportunity" of the city's downtown area. In addition to remarks from BID President and CEO Gerren Price and Board of Directors Chairman Michael McCarthy, the audience heard from Ward 2 Councilmember Brooke Pinto, and ODA Architecture Founder and Executive Director Eran Chen AIA, the evening's keynote speaker. (A recording of the event is available for viewing on the BID's YouTube channel.)
Price spoke about the BID's challenges in 2022, including a COVID-19 variant that stalled downtown's economic rebound, but also its accomplishments. Among them: the successful renewal of the BID's five-year charter to operate; the hard work of the organization's Safety/Hospitality and Maintenance Ambassadors to keep downtown clean, safe, and friendly; the BID's ongoing dedication to serving and supporting homeless individuals, including increased resources and hours at the Downtown Day Services Center; new and bigger signature BID events throughout the year, including those at Franklin Park that continue to bring District residents across all eight wards to downtown; and the marking of the organization's 25th anniversary as the steward of DowntownDC. Price also highlighted the work of the BID's sister organization, the DowntownDC Foundation, which supports homeless services, Franklin Park, public space enhancements, and events and programming in downtown. He then turned his focus toward the neighborhood's future, and the Action Plan that the DowntownDC and Golden Triangle BIDs are developing in partnership with the Federal City Council, with support from Mayor Muriel Bowser and the Office of the Deputy Mayor for Planning and Economic Development.
"Together, we've been resilient, and we've weathered the storm of danger and of doubt throughout the pandemic," Price said. "And now, as we continue to face challenges, we believe we have an unparalleled opportunity to completely reimagine the downtown as we know it and to secure its future for many years to come."
Councilmember Pinto, who has represented Ward 2 — which includes nearly all of the BID's 138 blocks — since 2020, has proved to be a strong and consistent advocate for downtown, including on office-to-residential conversions, transportation matters, support for retail, and neighborhood safety. "So many more people are really seeing the opportunity of what downtown is and what it can become," Pinto said. "There are so many people across the city, across the region, and in the country, who are now looking to downtown D.C. and saying, 'That's right — this is where possibility is, this is where we can think outside of the box.'"
One such out-of-the-box thinker is ODA's Chen, who established the New York architecture firm in 2007. Since then, ODA has earned a reputation for mold-breaking designs — including three projects in D.C. — to deliver a better future. Chen described the process for what cosmopolitan renewal for downtown could look like, presenting several real-world examples from ODA's work in Chicago, Buenos Aires, and Rotterdam.
"A few weeks ago, I presented at the D.C. economic forum a vision I called D.C. Greenways," Chen said, a reference to the firm's concept of employing city alleyways to make better and more-attractive connections between parks and plazas throughout downtown. "This idea only scratched the surface of what is possible in downtown D.C., if we are only willing to take a leap of faith and build a vivid, clear architectural vision. And so I am here calling on all of you today: This can be done. We can bring people and, with them, a new value to downtown. We need to work together and come up with an inspiring vision. Because once we do, the path will be clearer, the obstacles will seem manageable, and we can fly through this mission safely and present a new future for our communities."
As part of the event, the BID provided attendees with copies of its FY 2022 Annual Report, and Board Chairman McCarthy reported on several actions by and involving the Board of Directors, including the approval of the BID's FY 2024 budget, the determination of the FY24 Executive Committee, the vote on term renewals for current board members, and the addition of new board members. Board members serve three-year terms that begin with the October 1 start of the BID's fiscal year.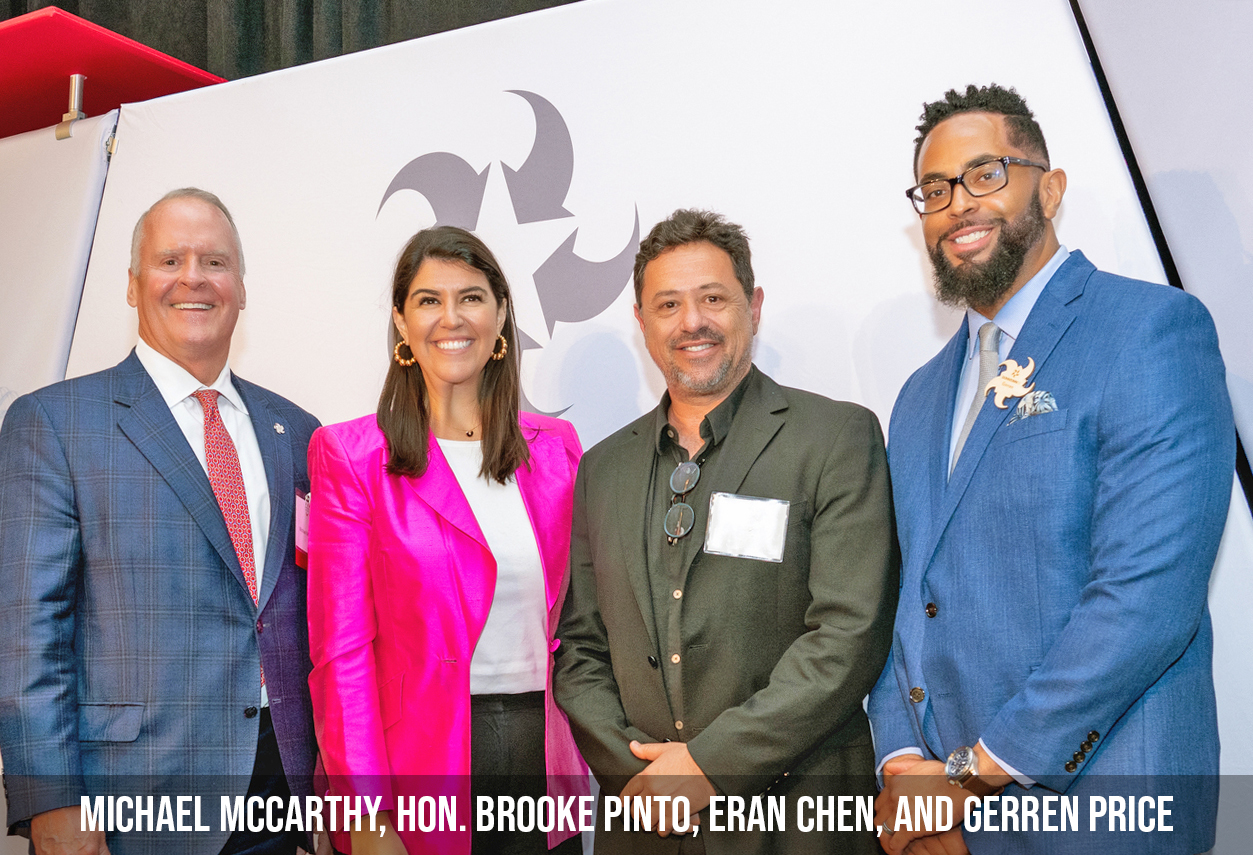 The FY24 Board Executive Committee, whose members serve one-year terms:
Chairman: Michael McCarthy, Corporate Vice President and Director of Asset Management and Acquisitions, Quadrangle Development Corporation
First Vice Chair: Matthew Klein, President, Akridge
Second Vice Chair: J.R. Meyers, Senior Partner, The Meyers Group LLC
Treasurer: Christopher Mundy, U.S. Head of Life, Science and Office, Oxford Properties
Secretary: Shantelle George, Senior Director/Store Manager, Macy's Metro Center Downtown DC
Member: Scott Frisch, Executive Vice President and COO, American Association of Retired Persons Foundation
Member: Kingdon Gould III, Vice President, Gould Property Company
Member: Thor Headley, Managing Director, Hines
Member: Yeni Wong, President, Riverdale International
The following nine BID-area business, retail, hospitality, and cultural leaders will join the board for FY24–FY26:
Sherry Abedi, Area General Manager, Viceroy Hotels and Resorts (Hotel Zena)
Kimberly Douglas, Managing Director, Woolly Mammoth Theatre Company
Majed Dawood-Farah, General Manager, Grand Hyatt
Aileen Fuchs, President and Executive Director, National Building Museum
Angie Gates, President and CEO, Events DC
Marisa Gerla, Managing Director and Partner, BCG
Abe Liao, Regional General Manager, Lore Group (Riggs DC Hotel)
Laleh Pirnia, Regional Operations Manager/Store Manager, Peruvian Connection
Ida Polite, Owner, Ida's Idea
The current board members whose terms were renewed for FY24–FY26:
Jeffrey Bank, CEO, The Alicart Restaurant Group (Carmine's)
Ann Chisholm, D.C. Government Relations Officer, Washington Metropolitan Area Transit Authority
Scott Frisch, Executive Vice President and COO, American Association of Retired Persons Foundation
Thor Headley, Managing Director, Hines
Matthew Klein, President, Akridge
Michael McCarthy, Corporate Vice President and Director of Asset Management and Acquistions, Quadrangle Development Corporation
Marshall McNair, Vice President, Asset Management, Brookfield Properties
Pete Otteni, Executive Vice President, Co-Head of the Washington DC Region, Boston Properties
About the DowntownDC BID
The DowntownDC Business Improvement District was founded in 1997 and is a private nonprofit organization that provides capital improvements, resources, and research that keep the BID area clean, safe, economically and environmentally strong, and accessible. The DowntownDC BID is a catalyst, facilitator, and thought leader in diversifying the economy, promoting public-private partnerships, and enhancing the downtown experience for all. DowntownDC encompasses a 138-block area of approximately 520 properties, from Massachusetts Avenue on the north, including the convention center at Mount Vernon Square, to Constitution Avenue on the south, and from Louisiana Avenue on the east to 16th Street on the west.