Just in time for warmer weather, the DowntownDC Business Improvement District (BID) has partnered with D.C.'s own City-State Brewing Co. to produce a unique, limited-edition beer: Franklin Park No. 9.
"The Franklin Park No. 9 saison is springtime in a can," according to City-State Co-Founder and CEO James Warner, and he couldn't be more correct. The crisp, slightly nutty saison is perfect for late spring and early summer and will be available from May 1 through July 31 at six downtown bars and restaurants.
You'll notice the label showcases Franklin Park — DowntownDC's largest green space and a source of inspiration for the saison (the name refers to the number given to the 4.8-acre parcel in Pierre Charles L'Enfant's 1791 Plan of the City of Washington). That's not just a pretty can of refreshing beer, but an opportunity for brew-lovers to be philanthropic: a portion of proceeds from sales of the saison will be donated to the DowntownDC Foundation, a 501(c)(3) nonprofit launched in 2019 that supports Franklin Park and additional downtown parks and public spaces, funds neighborhood programming and events, and provides crucial homeless services at the Downtown Day Services Center and throughout the BID area.
"Enhance your patio experience this spring with this limited-edition custom brew," DowntownDC Foundation Executive Director Rachel Rose Hartman says. "Head downtown to try Franklin Park No. 9 and support a great cause."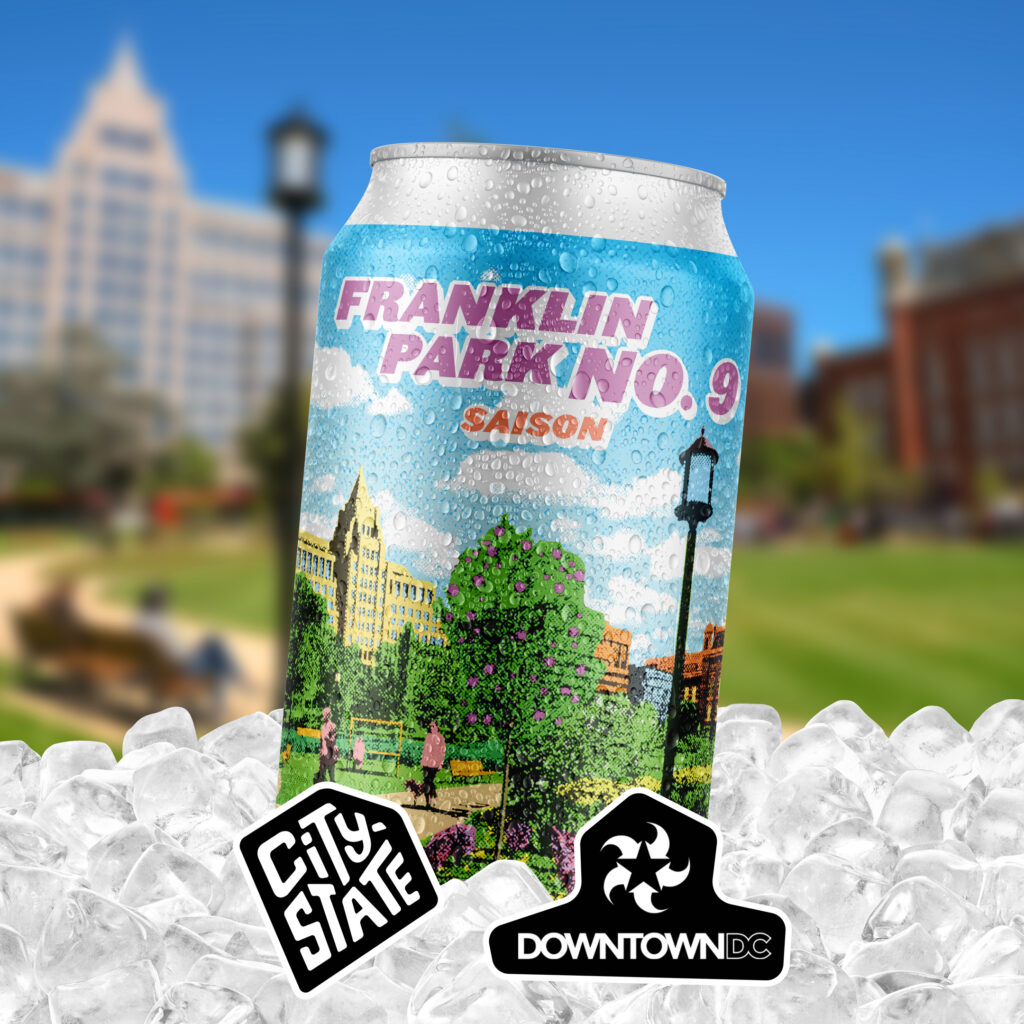 Stop by any of these locations from May 1 through July 31 to enjoy the custom brew:
• Baker's Daughter, 1201 K Street NW (Eaton DC hotel), @bakersdaughterdc
• Free State, 510B G Street NW (basement), @freestatebar
• Immigrant Food, 925 13th Street NW (Planet Word museum), @immigrantfood
• Marriott Marquis Washington, DC, 901 Massachusetts Avenue NW, @mhmarquiswdc
• Michele's, 1201 K Street NW (Eaton DC hotel), @micheles.dc
• The Westin Washington, D.C. City Center, 1400 M Street NW, @westin_dc
For Warner, the freshness of this beer is something special, and something that's just right for downtown: "It celebrates renewal and revival. Downtown D.C.'s comeback is vital to us and to the entire District, and we are honored that the BID tapped us for this unique project."
Visit a spot and enjoy the beer, then help spread the word by posting a picture on social media and tagging City-State (@citystatebrewing), the DowntownDC BID (@downtowndcbid), and the establishment you're visiting. Also be sure to stay tuned to the BID's social media and Digest newsletter for contests and more that will take place over the next three months.
Cheers, D.C.!