Updated: June 11, 2018
CAPS ARE STANLEY CUP CHAMPIONS!!!
Parade Set for Tuesday, June 12
Our very own Washington Capitals have made it to the Stanley Cup Finals! A parade is being planned for Tuesday, June 12 beginning at 11am at Constitution Avenue & 17th Street NW and will proceed along Constitution Avenue to 7th Street, where it will turn right and culminate in an ALLCAPS rally at 7th Street and the National Mall. Check the events tab for further updates.
Below, please find the latest information collected by the DowntownDC Business Improvement District (BID) on street closures, traffic updates, safety alerts and other information related to DowntownDC activities May 29-June 12, 2018 for the Washington Capitals.
This page will be regularly updated with the latest information from the DC Metropolitan Police Department (MPD), the District Department of Transportation (DDOT), the Washington Area Metropolitan Area Transit Authority (WMATA), the Executive Office of the Mayor, Monumental Sports & Entertainment, Capital One Arena and other partners and agencies involved in making this special event a huge success.
You can visit the District of Columbia's Stanley Cup Finals page https://dc.gov/caps for more information. Members of the public are encouraged to sign up for text alerts to receive safety, transit, and weather updates from the District on days when the Stanley Cup games are being played in Washington, DC. Text "ALLCAPS" to 888-777 to sign-up.
Subscribe at the bottom of this page to receive DowntownDC real-time Washington Capitals alerts from the BID in your inbox.
Please Note: Information below is subject to change.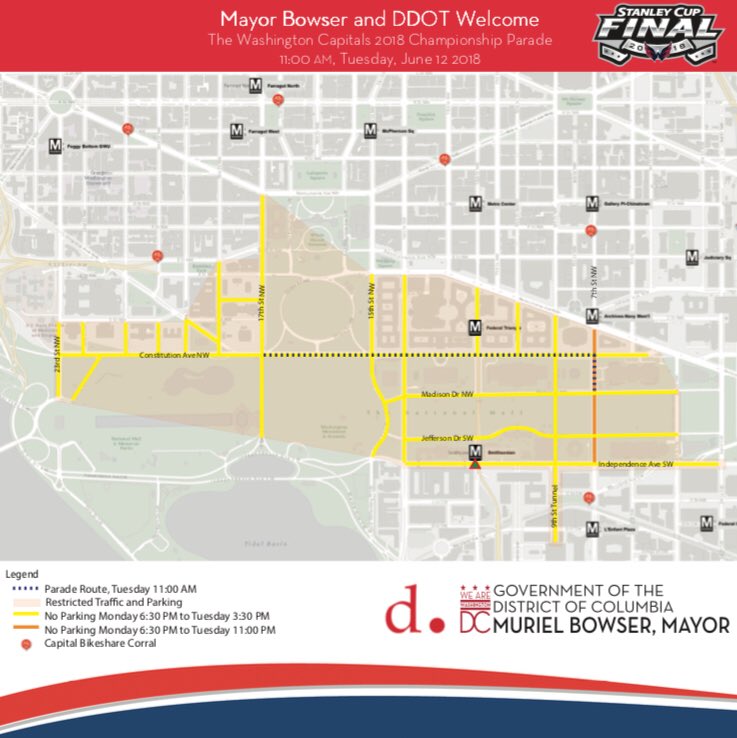 Subscribe below for alerts & updates: